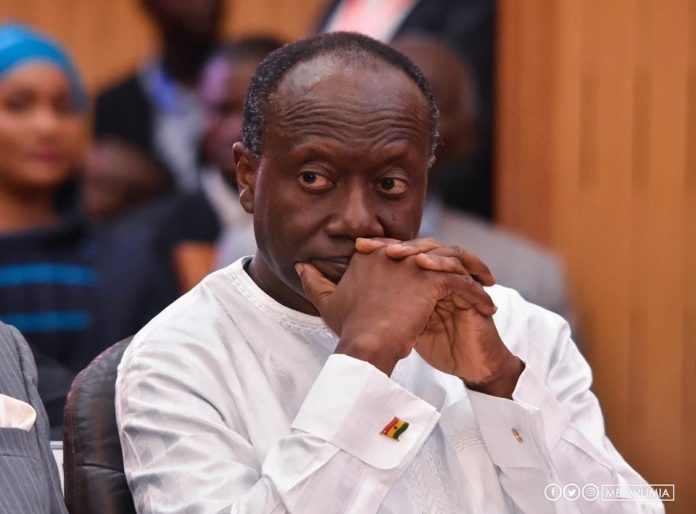 The New Patriotic Party (NPP) Majority Caucus in Parliament has disclosed it has reverted to the original position it took when it demanded the Minister of Finance Ken Ofori-Atta be dismissed.
According to the Caucus, Ofori-Atta should not be the person to present the 2023 Budget statement to Parliament and should not be the one to lead the appropriation.
The Majority in Parliament has stated the Vote of Censure motion moved by the Minority National Democratic Congress (NDC) is premised on falsehood and propaganda.
According to the Caucus, the reasons adduced by the Minority for the removal of the Finance Minister Ken Ofori-Atta are not justifiable and different from what the Majority is pursuing.
The side argued that leveling about ten allegations against the Minister bordering on criminality and not offering him the opportunity to defend himself is pedestrian and partisan hence it will not support the Vote of Censure motion.
"The cause of the NDC is premised on falsehood, propaganda, and reasons that are not justifiable. The Minority position might look like ours but it's not the same," the Caucus said.
At a press conference on Thursday, November 10 and representing the original 80 NPP MPs who demanded the dismissal of the Finance Minister, MP for Effiduase/Asokore, Dr. Nana Ayew Afriyie who addressed the media said the feeling is confidence in the Minister has waned and he must step down.
"However, but for COVD and the Russia and Ukraine war he was doing very well and the economy was doing very well."
"When people are hard-pressed and have no understanding to the logic of competence and hard work and when they lose confidence, it affects the market and the pocket of people, it is the Finance Ministry. For us we have nothing personal against the Minister," he stated.
"Our position is clear that if confidence in him has gone down he must go but that is not the same as demanded of the NDC," he added.
Dr. Ayew disclosed that Majority Caucus has reverted to its original position and stressed that Ken Ofori-Atta must not be the one to present the 2023 Budget and the Appropriation.
The MPs, after a meeting with President Nana Akufo-Addo following their demand for the dismissal, rescinded the decision and agreed for Ofori-Atta to present the budget and the appropriation and also conclude the deal with the International Monetary Fund (IMF).
According to Dr. Ayew, however, the side demands the Finance Minister vacate his position and should not be the one to present the 2023 budget.