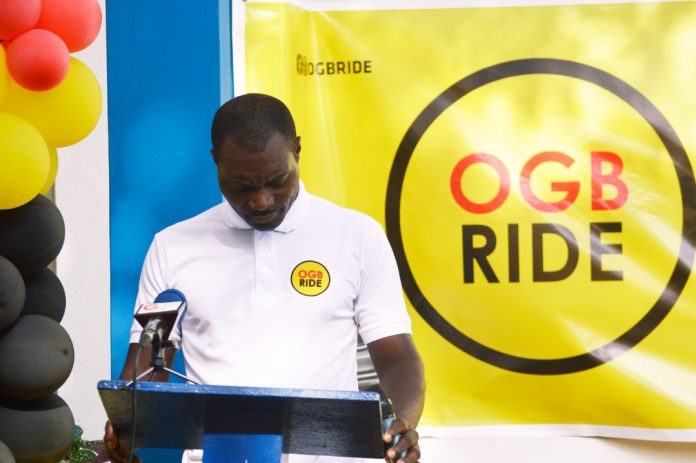 Global Chairman of Oman Ghana Baako (OGB), a Diaspora organization bringing and uniting all Ghanaians both home and abroad for social development has stated every country's development started with their citizens who travel outside.
According to him, countries like China, Sweden, and others have reached their stages of development because their citizens have gone out and acquired the experience and technical know-how and then gone back to put the knowledge they have acquired to transform these countries.
Ghana, he said, should not lose out on this opportunity because there are many Ghanaians abroad with the knowledge and expertise to help develop the country when given the support.
Mr. Appiah stated these at the launch of an indigenous cab-hailing app dubbed OGB Ride that was initiated and developed by Ghanaians abroad under the auspices of OGB
He argued that Ghanaians in the Diaspora have solutions to the country's problems and are more than ready to contribute their quota to Ghana's development.
According to him, OGB was formed not only to bring Ghanaians abroad together to fraternize as is the current state of many of these unions but to come together to contribute their possible best to develop the country.
He averred that on it is only one unit of the OGB, the IT section that came together to develop this digital transport platform.
He noted, however, that it is not the intention of OGB to compete with the other taxi-hailing apps in the country but stressed this is part of efforts to put an indigenous business in that sector as the others are mostly foreign.
Board Chairman of the National Road Safety Commission (NRSC) and CEO of Diaspora Television Network (DTN) in the keynote address stated that Ghanaians have what it takes to develop Ghana to any level.
According to him, despite this undeniable quality Ghanaians have not developed the belief in their ability to accomplish anything they set their minds on.
"When are we going to believe in ourselves," he queried.
He stated that Ghanaians who live and work abroad make more than Ghanaians who stay in Ghana and stressed the 2% contribution of Ghanaians from the Diaspora in terms of remittances was in excess of US$5 billion dollars last year.
He averred that though the World Bank said it is 3.6 billion dollars, DNT study indicates about 29.9% of Ghanaians send money through informal means that the World Bank cannot track.
"So what are we stopping everything in Ghana for to get from the IMF, 3 billion?"
"I want you to sit down and think about what the Diaspora can do for this country and yet when we come back we are accused of arrogance."
"What kind of people are we," he queried.
Mr. Nkrumah expressed the belief that those in the Diaspora can change Ghana not because they are smarter but because they have been exposed to systems that work and would want to bring it back home.
Former Deputy Ambassador to China, Charles Dwamena popularly called Dr. China hailed the ability of Ghanaians to excel in every field when given the right opportunity and support systems.
According to him, he is therefore not surprised that some talented Ghanaians have come together to develop the cab-hailing app, which he said will contribute to building the country.
He urged Ghanaians to support OGB and the app because it will help boost the corporate image of the country.
The Former Deputy Ambassador noted that though there are other taxi-hailing apps operating in the country, the OGB Ride is an indigenous app and therefore using it contributes to building the growth of Ghana.
He said, "Whenever we take OGB Ride we are making Ghana strong. It is something that has come at the right time given the current global economic challenges."
He urged the group to replicate the OGB Ride app in other sectors and do more because as Ghanaians they are capable of doing more.