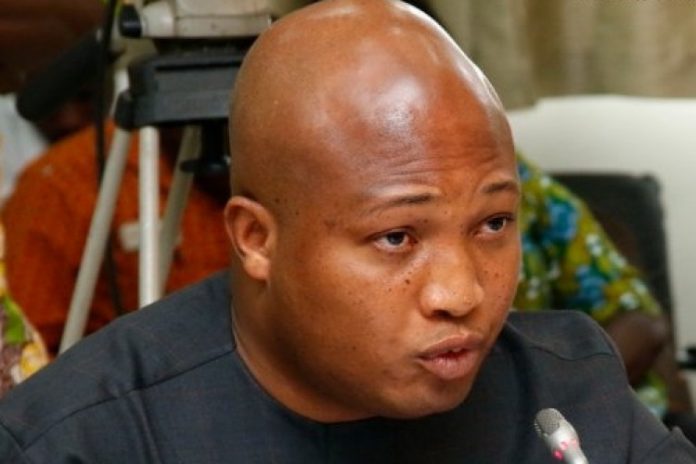 Member of Parliament for North Tongu, Samuel Okudzeto Ablakwa, has appealed to the Majority New Patriotic Party (NPP) to support the Minority to reject the 2023 Budget.
According to him, the Budget as presented by Finance Minister Ken Ofori-Atta to Parliament spells doom and gloom for the Ghanaian people and paints a very terrifying and horrifying picture.
Reacting to the budget presentation on Thursday, November 24, Hon. Okudzeto Ablakwa argued it does not address the pain, hardship, and suffering of the Ghanaian people and warned it is actually going to worsen an already bad situation.
Petrol prices
The North Tongu legislator expressed disappointment a review on petroleum products was not mentioned.
He questioned why Ghana has the highest diesel and petrol prices in the sub-region; higher than Togo, Benin, and Ivory Coast.
This situation, he said, has created an unhealthy opportunity for people to smuggle fuel across the borders to survive.
He said, "Why can't we review the taxes on petroleum products? When you do that, transport fares and food prices will go down and trigger a certain reduction in the prices of other goods and services."
Mr. Ablakwa also condemned the 2.5% increment in VAT at a time when inflation is in excess of 40% and Ghanaians struggling to eke a living, especially under President Akufo-Addo who opposed VAT and led a demonstration that caused the death of people.
Expenditure cuts
The legislator argued government's ban on hampers and diaries as a measure to cut down expenditure is a very feeble attempt.
He argued the amount going to be saved from the ban is not substantial compared to some big ticket items like the many secretariats at the presidency that are needless.
He questioned why the President still keeps a COVID-19 secretariat, which in 2021 spent more than GH¢12.6 million on just salaries, goods, and services when the Ghana Health Service and the Ministry of Health exist for such purpose.
"Why do you create a Special Development Initiative (SDI) secretariat at the presidency when we have been told that the SDI Ministry has collapsed?"
"The 2021 Auditor-General's report reveals that their budget on goods and services and on salaries and compensations has ballooned from less than a million cedis to GH¢358 million. So these are the big ticket expenditures."
Okudzeto Ablakwa also described as ridiculous the government ban on the use of V8 vehicles within the capital and argued a cut in the expenditure of the President's travels with €20,000 an hour chartered jets would have been more meaningful.
According to him, he expected to hear a direct concrete ban on chartered jet travel by the President and argued the administration is conveniently avoiding the big-ticket issues.
The size of government, he said, is another area that a huge expenditure cut could be affected by reducing the number of ministers and queried, "Why are they afraid to reduce the number of bureaucracies."
"Do we need the Middle and Coastal Development Authorities? What are all of those when you have regional coordinating councils and the MMDAs?"
"As we speak, district assemblies common fund is in arrears for six quarters. So you are killing the district assemblies and then you're creating other bureaucracies."
"I am not impressed with the efforts to cut down expenditure because it is not far-reaching and deep and will not make any substantial impact," he said.