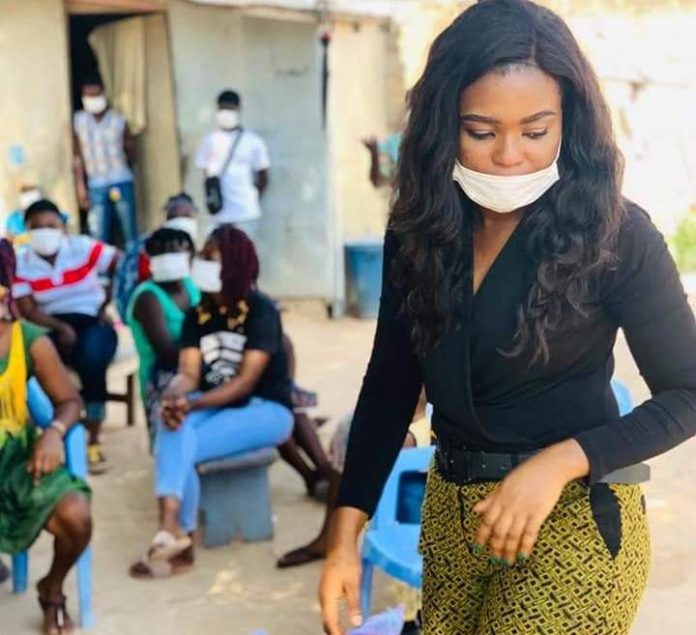 Member of Parliament for North Dayi, Ms. Joycelyn Tetteh, has raised an alarm of imminent spike in Ghana's coronavirus (COVID-19) infections because of bad handling of nose masks by the public.
The situation, she warned, could be dire if education on the proper use of the mask is not stepped up.
She applauded directives on the mandatory wearing of the nose mask but insisted on the need to go further to ensure people wear and handle them as prescribed.
Ms. Joycelyn Tetteh expressed these concerns on the floor of Parliament on Thursday.
She argued that a key measure to curb the spread of the coronavirus is the wearing of the mask as outlined by health experts.
Also READ: Tema Motorway Interchange: Akufo-addo urged to acknowledge Mahama's contribution
This, she said, has become the norm in almost all countries across the world including Ghana with the Health Ministry making the mask-wearing compulsory.
According to Ms. Tetteh, the directives on wearing nose masks have provided guidelines on how it should be worn, removed, and disposed of.
She expressed worry that many people do not appear to have bought into the idea of wearing the nose mask.
She said, "There is a worrying trend among the populace especially when it comes to wearing and handling the masks properly."
"In our markets, on commercial vehicles and even at workplaces, you will find people who wear the mask below their chin, on their forehead, simply hang it around their neck or carry it in their hand."
The legislator averred that an impression has been created to own and carry the mask around is sufficient protection against the coronavirus.
She indicated that the home-made fabric masks, which is a cheaper alternative to the surgical masks, require constant washing with warm soapy water, dried and ironed but are left soiled and unkempt.
Also: EC successfully pilots Voter Registration Exercise
"This situation is alarming because the experts tell us that clothing or accessories that we wear have the potential to be contaminated, and the same is true for our cloth masks."
"We must wash our masks as often as we do our underwear," she stated.
She appealed to the media, NCCE, ministries and other government agencies to step up public education on the matter.
MPs as representatives of the people, she said, must also support public education efforts in their various constituencies.
"We must help to carry the message to our people that securing the mask is just one piece of the puzzle and that for the masks to be effective, they must be worn and handled properly," she said.
She stated that wearing face masks alone may not prevent people from getting the virus but will help ensure it is not spread to others.
—
Frontpageghana.com/Ghana/Uthman A. Marani