Member of Parliament for Akwapim South, Hon. Osei Bonsu Amoah has challenged the National Democratic Congress(NDC) parliamentary candidate in the constituency to show his achievements in the constituency when he was in office for eight years.
Mr. Amoah said as the former District Chief Executive for eight years, Afari Djan who is now contesting on the ticket of the NDC cannot pinpoint any project he has undertaken in the communities though he was receiving more monies from the central government compared to what he, O.B. Amoah was receiving as a Parliamentarian.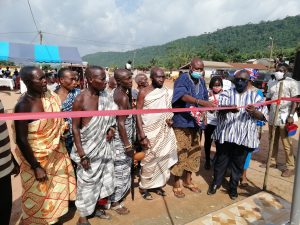 According to him, though an opposition MP during NDC's eight years in office, he was able to use the little he received as a legislator to execute many projects in the constituency to help his constituents.
Mr. Amoah disclosed these when he toured some communities in his constituency to campaign for Nana Akufo-Addo as President and himself as the Parliamentarian for continuity.
"When the NDC candidate comes here to campaign ask him to show you what he did for the people of these areas."
"He was the DCE for Akwapim South for eight years but I gave you electricity, I gave you water, I gave you CHPS Compound that was first of its kind, now you are building your new KVIP, and am supporting you."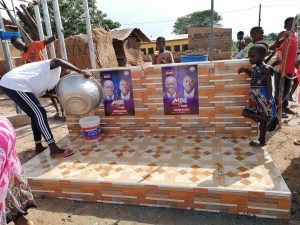 "Ask the NDC candidate and his party, what is their contribution to your livelihood," he stated.
"Yes, the record shows you voted for NPP here in 2016, but you should do more to push Nana Addo and the NPP party for another four years to do more for you. The NDC's votes were too much. Give him a quarter of that and the rest to Nana Addo and I," he added.
Hon. O.B. Amoah who is also the Deputy Minister for Local Government and Rural Development reminded the people to be wide awake in this election and not to allow the NDC to deceive them with their lies.
He noted that in this COVID-19 era, even teachers who are staying home because the government shut down all schools to protect the children are being paid their salaries.
He indicated that during the NDC's term in office, teachers who worked for three years were only paid three months, "So how could somebody come to you in the name of NDC to seek for your votes to rule Ghana again," he quizzed?
Touting the achievements of the Nana Addo-led administration, the Senior Member in Parliament lamented that even in this coronavirus pandemic period where governments are finding things tough to feed their country, under President Akufo-Addo, Ghana is producing more food to the extent of exporting to Liberia under the 'Planting for Food and Jobs' policy initiated by the NPP administration.
OB said, "Under John Mahama for the first time, we had 'Unemployment graduates' in Ghana but Akufo-Addo with his good policies have created jobs to employ all of them under NaBCO, 1D1F, Planting for Food and Jobs' etc," and added that very soon the area, which is noted for pineapple plantation will also benefit from the 1D1F.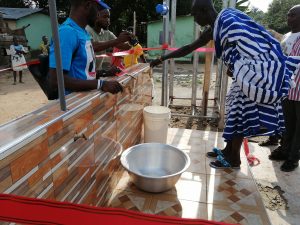 He urged the constituents to therefore give him and Nana four more years to do more.
The Deputy Minister's campaign tour took him to six communities including Kyerepong, Fahiako, Anamenapa, Dago, Obotwire and Abetima.
At Dago and Abetima, Mr. Amoah commissioned a mechanized borehole for the people funded from his Common Fund.
He also distributed cutlasses to all as their farmers' day gifts, jerseys and footballs for the youth, and parcels for the aged above 60 years in these communities. Those below the age of 60 were also not left out.
— By: Sammy Agyei/www.frontpageghana.com/Ghana